Men's Grooming Industry Leader Expands Its Washington, D.C. Metro Presence with New Salon in Montgomery County on March 31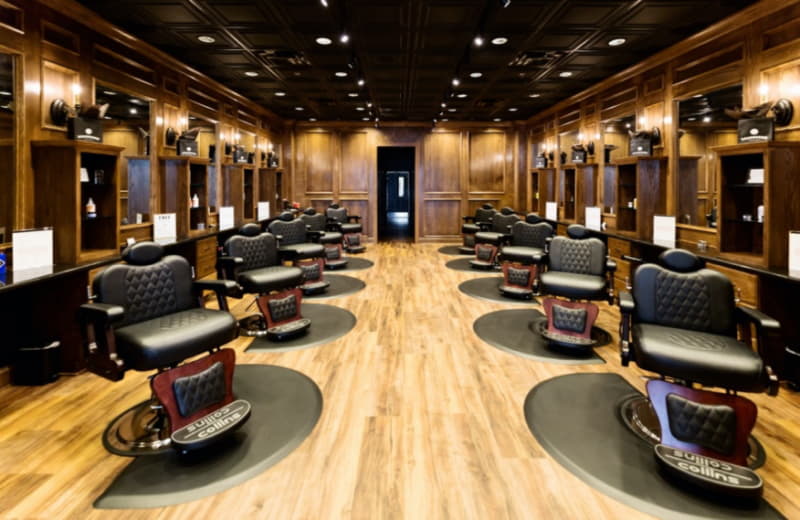 Boardroom Salon for Men marks its debut in the state of Maryland in Rockville at 12031 Rockville Pike in the Montrose Crossing Shopping Center. The sophisticated salon has built a reputation of excellence by providing exceptional hair and shave services for men of all hair types, accompanied with complimentary beverages. Boardroom offers clients cost-effective membership programs alongside a la carte services including tailored haircuts, shaves and more.
The Rockville salon opening follows the premier of Boardroom's first Washington, D.C.-area location this past January in Fairfax, VA's Mosaic District. Boardroom's 43rd salon sits along Montgomery County's Rockville Pike in the power center of Montrose Crossing.
"We are eager to expand further into the DMV region with our second area opening, where we are thrilled to join the established retail partners of Montrose Crossing in Rockville," said Nicole Morales, D.C. Salon Manager. "Our talented stylists deliver a refined and comfortable experience to all our members and clients, exceeding the premium standards of Montgomery County residents."
The idea for Boardroom Salon originated in 2004, when the men's grooming industry did not yet exist. Husband-and-wife team Bruce and Heather Schultz were inspired by an article featuring men's grooming in American Way Magazine and predicted significant demand for an upscale salon experience. Within eight months, the idea had come to life with a solidified business plan, location selection, lease and build-out marking the first salon in Southlake, TX, in August 2004. Since then, the brand has become a leader in the industry, expanding to 43 locations across the U.S.
"We are thrilled to partner with Boardroom Salon for Men on their expansion into Maryland and know the salon will be well-positioned for long-term success at Montrose Crossing," said Mickey Papillon, VP of Asset Management at Federal Realty Investment Trust.
The sophisticated salon features dark wood paneling, a relaxing lounge with oversized leather chairs and a comfortable atmosphere.
The salon's signature haircut service, The Benchmark®, includes the following:
Personal consultation
Tailored haircut with precision neck shave
Personalized shampoo + conditioning
Scalp massage
Pressure-point facial massage
Steamed towel
Paraffin hand dip
Stress-relieving hand massage
Expert styling and tips to achieve perfect look every day

Boardroom offers clients the opportunity to purchase One-Month, Six-Month or Annual Memberships, which provides members the freedom of unlimited haircut services, plus 10 percent off all products and services, as well as complimentary referral Benchmark® haircuts to giveaway. Memberships are honored at all Boardroom locations nationwide.
In honor of the opening, Boardroom Salon is offering a limited number of Founder's Memberships, which include exclusive discounts for Rockville clients. Prior to the salon opening, clients will have the opportunity to purchase the following, for up to $165 in savings:
Three-Month Express Haircut Membership at the discounted rate of $125
Three-Month Executive Haircut Membership at $150

While supplies last, Founding Members will also receive a branded Boardroom silver beverage tumbler. You can learn more about the limited time offers at the link, here.
In accordance with Boardroom's COVID-19 Safety Promise and all local guidelines, team members are equipped with masks and gloves and subject to temperature testing before each shift.
Boardroom is open Monday – Friday from 10 a.m. to 8 p.m., Saturday from 9 a.m. to 6 p.m. and on Sunday from 12 p.m. to 6 p.m. To schedule an appointment, please visit boardroomsalon.com/rockville-montrose.
Boardroom is actively seeking applicants for stylists and front of house positions, for information or to apply visit https://boardroomsalon.com/careers/.
For more details on the March 31 opening, please visit the Facebook event.
ABOUT BOARDROOM SALON FOR MEN
Since 2004, Boardroom has been the place where men get ready. Boardroom delivers the ultimate relaxed grooming experience for men by providing exceptional haircuts, shaves, and spa services in an elegant and luxurious environment. Boardroom currently has over 43locations throughout Arizona, Georgia, Maryland, Oklahoma, Tennessee, Texas and Virginia. For more information, visit boardroomsalon.com or facebook.com/theboardroomsalon.