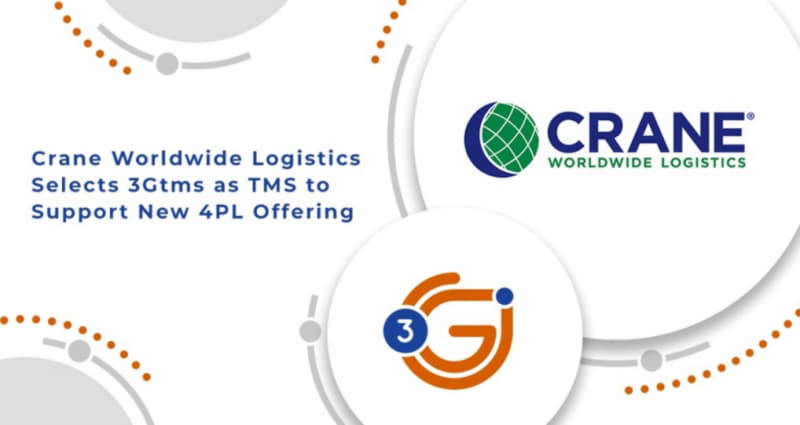 3Gtms announced Crane Worldwide Logistics selected the company to support the growth of its new domestic 4PL offering, Crane Managed Transportation Services.
With 3G's transportation management system, 3Gtms, Crane Worldwide has a transformative software platform to fuel the growth of its managed transportation offering. Deployed in a private cloud, the multi-mode 3Gtms will orchestrate the entire order to settlement process in real-time within a single system. Crane Worldwide will also leverage 3Gtms' sophisticated, built-in optimization engine to manage complex constraints and data changes to determine the best plan to execute. This transformative initiative by Crane Worldwide drives additional value for clients and deepens service and supply chain integration, accelerating CMTS' market growth.
Crane Worldwide selected 3Gtms because of its proven ability to deliver on its optimization capabilities; its functional flexibility allows each client to have a unique process flow; its superior ability to orchestrate the order to settlement process; and its ease of use compared to other TMS providers.
"We needed a partner with the right technology and the right cultural fit to support the aggressive expansion of our managed transportation offering," said Brian Shipley, Senior Director, Managed Transportation at Crane Worldwide Logistics. "3Gtms' flexibility and optimization capabilities will drive bottom-line value for our clients and for us. In addition, we appreciate our partnership with 3Gtms that allows us to shape the roadmap of their powerful technology."
"Optimization with dynamic, real-world execution is something many TMS vendors claim, but few can deliver. With 3Gtms, Crane will have a unique, built-in engine that can manage the complexity and scale of its growth," said Mitch Weseley, founder and board member of 3G. "We're proud to support such a global leader as Crane Worldwide as it expands into new services with an impressive trajectory."