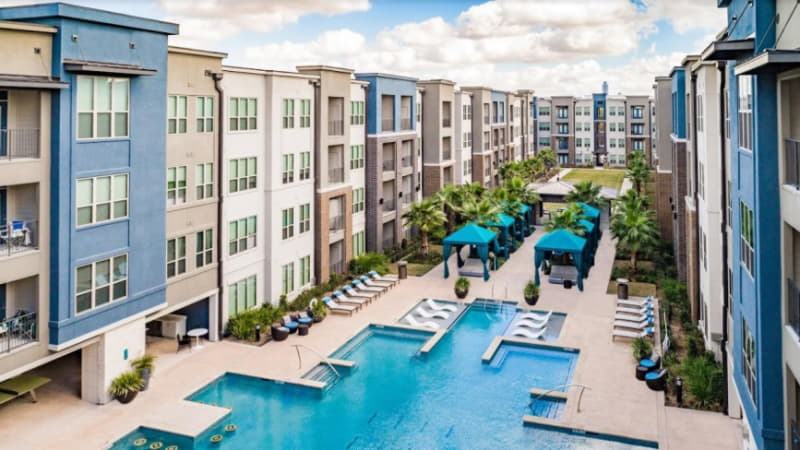 Berkadia announces it has arranged the sale of The Everly, a 387-unit Class A multifamily community in Houston. Senior Managing Director Ryan Epstein, Director Jennifer Ray and Associate Director Scott Bray of Berkadia's Houston office represented seller Embrey Partners, Ltd., a San Antonio-based diversified real estate, investment, development, construction and property management firm specializing in multifamily and commercial real estate. The buyer was Praedium Group, a privately held real estate investment firm based in New York.
"Houston's Class A infill communities have become increasingly uncommon yet highly desired assets that offer long-term stability and value appreciation for several reasons," said Epstein. "In addition to a suite of modern amenities, the presence of a newly built asset in a core location between Uptown/Galleria and the Westchase District provides compelling opportunities to leverage surrounding employers and amenities, securing its viability and demand especially when taking into account the lack of new supply within three miles."
Completed in 2018, The Everly is located at 2827 Dunvale Road. One- and two-bedroom units include stainless steel appliances, walk-in closets, custom wood cabinetry, granite and quartz countertops and framed mirrors. Community amenities include a fitness center, Wi-Fi lounge, swimming pool with lounges, an outdoor fire pit, dog park and dog wash, a beer garden and an indoor golf simulator.
Situated between the Energy Corridor and Galleria areas of Houston, The Everly is ideally found between the second- and third-largest business districts in Houston, respectively. Major employers nearby include the headquarters of BP America, ConocoPhillips, Marathon Oil and Spectra Energy Group, with approximately 47 million square feet of combined office in proximity to the asset.
About Berkadia®:
Berkadia, a joint venture of Berkshire Hathaway and Jefferies Financial Group, is a leader in the commercial real estate industry, offering a robust suite of services to our multifamily and commercial property clients. Through our integrated mortgage banking, investment sales and servicing platform, Berkadia delivers comprehensive real estate solutions for the entire life cycle of our clients' assets. To learn more about Berkadia, please visit www.berkadia.com.